Dwight McMillan's Story
I don't remember much from my 15 months at Health Sciences Centre, but I do remember a banana. A doctor was at my bedside reviewing the results of a blood test and he mentioned that my potassium was low and that it would be good for me to eat bananas. A kind cleaner overheard the conversation while she was mopping the floor of my room. She left and came back with a banana from her own lunch. "The doctor said you need more potassium," she said to me.
That memory stands out for me not as a single moment of kindness, but as a sample of my entire experience at HSC. People were compassionate and attentive; they heard my voice, they heard my wife Joanne's voice, and they were caring beyond words. Most important—they saved my life.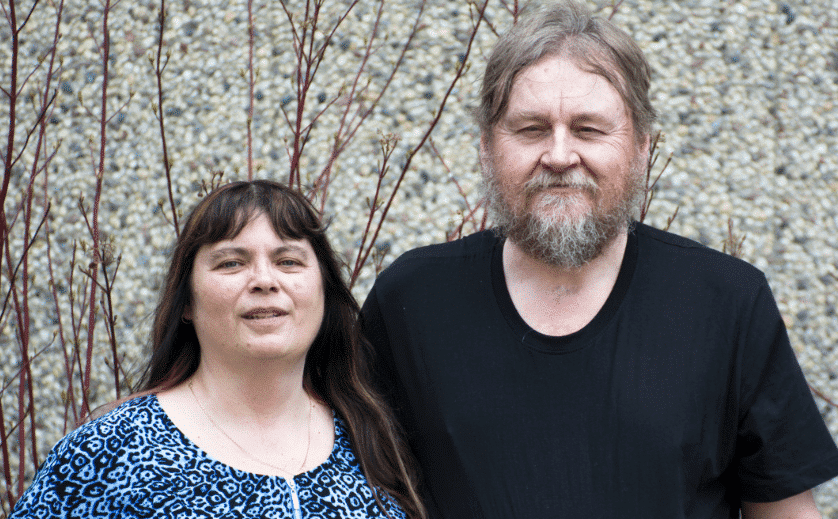 My case was complicated. Very complicated. It all started in 2015 when I had my gall bladder removed in Brandon. I developed jaundice and then pancreatitis, an agonizing, painful disease of the pancreas. My symptoms worsened over time and I was eventually airlifted to HSC. I spent much of my time in the Intermediate Intensive Care Unit. I was sick, I was weak, and my body was riddled with infection. I couldn't turn over in bed by myself; I could barely scratch my own nose.
Fluid built up around my lungs and I needed a ventilator to breathe. At one point, I had 12 intravenous lines all functioning at the same time. My blood pressure was dangerously low; and my organs started to fail. The doctors and nurses were incredible. They answered Joanne's questions. They were direct, honest, kind, and easy to understand. Joanne and I were especially impressed by Dr. Luis Oppenheimer whose warmth and communication skills made the journey easier.
HSC never gave up on me. They discovered a bowel obstruction and removed it. Another obstruction formed weeks later. They took care of that one, too. It was after the second bowel surgery that I started to show some signs of recovery, but I was still months away from discharge.
As soon as I was ready, the hospital staff got to work building up my strength. I will never forget Amber, my physiotherapist, who got me out of bed every morning and got me on my feet. I hadn't moved very much for months. My muscle strength was depleted. But Amber got me moving. She was determined and patient.
What I saw at HSC blew me away. I saw professionals for whom their work was not just a job, it was a passion. I saw dozens of professionals who saw me as a person before they saw me as a patient. I saw a hospital that works.
I was discharged in July 2017 to continue my recovery at home. In September of this year, I got back to my project management job at Parks Canada in Riding Mountain National Park. I feel stronger. And I feel grateful.
Through my experience, I learned that HSC – Manitoba's hospital – relies on donors throughout Manitoba as they seek to achieve greater levels of excellence all the time. Your gift to the HSC Foundation will help the hospital acquire the latest equipment, enhance facilities, and conduct world-leading medical research.
People like you help HSC provide life-saving care to patients like me throughout Manitoba. I am grateful for HSC, and I am grateful for donors to the HSC Foundation.
Please contribute today by completing the donor form below and returning it to the HSC Foundation office, or by calling the Foundation at 1 (800) 679-8493 to make your donation.
Thank you,
Dwight McMillan
Onanole, Manitoba
It is with great sadness that we note the passing of Dwight McMillan on July 19, 2020. We feel privileged to have met him, and our heartfelt condolences goes out to Dwight's loved ones.