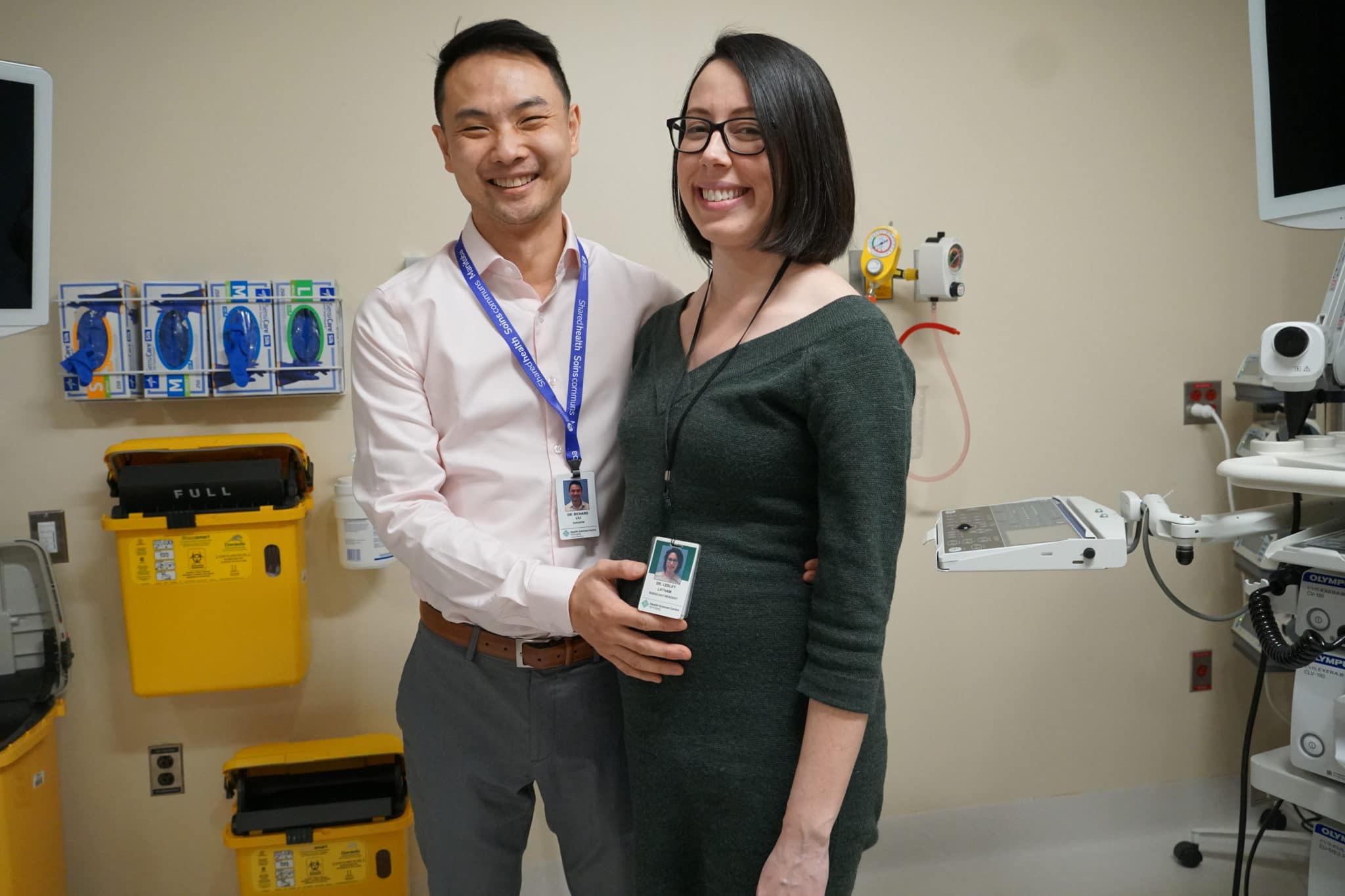 Two doctors walk into a bar… it sounds like the beginning of a joke, but it actually describes the beginning of the relationship between Dr. Richard Liu and Dr. Lesley Latham.
China born, Alberta raised Liu and Nova Scotia-born-and-raised Latham met by chance at a Hamilton bar when Latham was a student at McMaster University and Liu was interviewing for a medical residency at the same school.
"We discovered that we were both planning on moving to Halifax the following year for our careers—it was kind of serendipitous," Dr. Liu says.
Liu left the encounter with Latham with what he assumed was her cell phone number, only to later find out he was texting her landline. Thankfully, Latham found Liu on Facebook and was able to connect.
"Our first date was actually on Valentine's Day," Dr. Latham recalls. "Richard circled back to Hamilton after his remaining residency interviews on his way home to Calgary. We cooked together and he met my friends."
Fast forward five years of dating, four years of marriage (one of those years being long distance), one child (with another on the way!), an uproot from the Maritimes to the Prairies, and you have a growing family of new Winnipeggers.
Dr. Liu moved to Winnipeg two-and-a-half years ago for his thoracic residency at Health Sciences Centre, with Dr. Latham and daughter Margot following shortly after once Latham was able to transfer her radiology residency from Dalhousie University to the University of Manitoba.
"We didn't quite know what to expect from Winnipeg, but there is plenty to do here," Dr. Latham says.
Dr. Liu, Dr. Latham, and Margot spend much of their coveted free time at the Royal Manitoba Theatre Centre, the Royal Winnipeg Ballet—specifically Romeo & Juliet—the Manitoba Museum, Winnipeg Goldeyes baseball games, and Winnipeg Jets hockey games (although Liu stays true to his home province and unabashedly cheers for the Edmonton Oilers).
Carpooling, lunches, and coffee breaks spent together are often perks of couples working in the same building. However, for this hard-working couple, they feel lucky if one has even a moment to swing by with a treat for the other.
While there are many demands involved in Dr. Liu's and Dr. Latham's day-to-day jobs, both medical professionals cite synching their busy schedules with childcare as a top challenge.
"As a thoracic surgeon, I have several schedules in my office—the nanny schedule is by far the most complicated!", says Dr. Liu.
The couple's advice for others in long-distance relationships?
"Have a common end goal," says Dr. Liu. "Long distance relationships are a challenge and it is important to have an end goal in sight."
With your ongoing support, the HSC can continue to attract leading physicians—leading physicians like Dr. Richard Liu and Dr. Lesley Latham.  Help us create an environment where excellence and innovation can continue to thrive. Click here to contribute to our Innovation HSC campaign today.
By Natasha Havrilenko