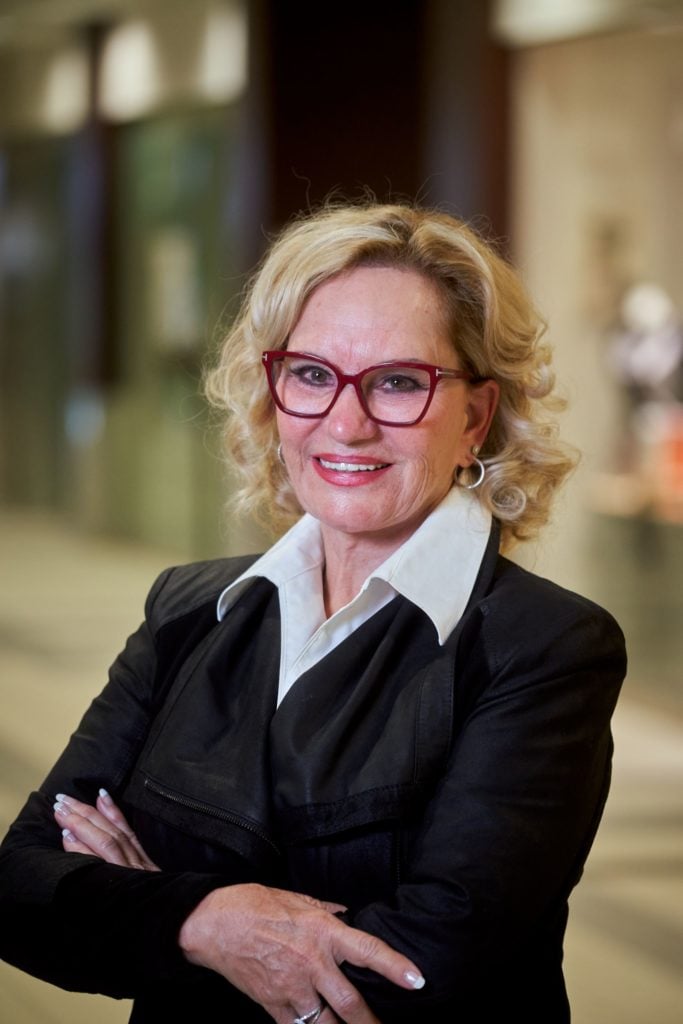 Health Sciences Centre has been a central institution in the life of Mavis Taillieu, from the earliest days of her career to her 2019 appointment to the HSC Foundation Board of Directors.
Mavis Taillieu was born in Austin, Manitoba, to Jim and Enid Durward. Taillieu's ancestors in Austin were actively involved with the Manitoba Threshermen's Reunion and Stampede right from the beginning. Family members are still passionately engaged in organizing this signature event today.
Jim Durward's job with the Canadian Pacific Railway took the family to Brandon when Taillieu was 11. She graduated from high school in Brandon before moving to Winnipeg for school. For two summers during high school, Taillieu got a job at the Brandon Clinic, working alongside her mother who was the head lab technologist. Her mother initially had her sights set on a career in medicine, but gender quotas at the time denied her entry into pre-med. With her science degree, Enid Durward became a lab technologist, first in Winnipeg and then in Brandon.
In her first summer in the lab, Taillieu earned the princely sum of $67 and gained a deep appreciation for lab technology work. After graduating from high school, she enrolled in the laboratory technology program at Red River Community College. She was hired immediately upon graduation by the hematology lab at Health Sciences Centre. By the age of 26, she was named Chief Technologist of the lab.
She played a key role in moving the lab from the old Winnipeg General Hospital building to MS5 in the Thorlakson Building. She was also instrumental in efforts to computerize the lab's work along with implementing performance evaluation and continuing education programs, and overseeing scheduling, logistics, and other functions. She left her position in 1987 to marry Wilf Taillieu of Headingley and to take care of their blended family. Her own two sons had been born at HSC a few years earlier.
As their three children got older, Taillieu decided to go back to school. She enrolled part-time at the University of Winnipeg in the early 1990s and earned a degree in Business Administration in 1996.
Overlapping with her relocation to Headingley and her early years at U of W was a movement in Headingley to secede from Winnipeg, a move that was ultimately implemented in 1992. Wilf Taillieu, who later became Headingley's mayor, was at the forefront of the movement. As the community became independent, Mavis Taillieu volunteered to take over the community newsletter which had focused mainly on children's activities. It became clear to Taillieu very quickly that people were hungry for more community news and the eight-page newsletter quickly grew to 32, supported by local advertising. The newsletter became the Headingley Headliner weekly newspaper in 1996, owned by Taillieu and operated by Taillieu and a team of three.
In its first year, the Headliner won an award for its Christmas edition, and Taillieu won provincial and national writing awards. At its peak, 4,500 copies of the Headliner were printed every week. Taillieu sold the paper in 2000.
Tragedy struck on Taillieu's very last day running the Headliner as her stepson Garth Taillieu, 18, was killed in a car accident. He was Wilf's only son. The next few years were difficult for the family as they coped with Garth's passing.
In 2003, Taillieu decided she would try her hand at politics after the sitting member of the legislature decided not to run again. Taillieu ended up serving as the MLA for Morris from 2003 to 2013, winning three elections. She served as a critic for several portfolios, Caucus Whip, and House Leader. All of her years were spent in opposition. While she loved the political debates and helping her constituents, being in opposition—when the job always meant finding fault with the government—grew tiresome and negative.
Leaving politics in 2013 turned out to be an excellent decision as Wilf was looking to retire and spend the winters in Palm Springs. They spent parts of the winters of 2013 and 2014 down south and then tragedy struck the Taillieu family again as Wilf took ill with stage four esophageal cancer. His symptoms first appeared in 2015.
Even though Wilf kept a positive attitude, the journey was a difficult one for the entire family. He was treated at HSC, needing a procedure every three to four weeks to open up his esophagus so he could eat, drink, and breathe. Scheduling was often difficult and the Taillieus had to visit the emergency room numerous times to get the relief he needed when timely appointments weren't available.
After Wilf passed away in June 2016, Mavis Taillieu was encouraged to do something to honour Wilf's memory and to help the hospital improve care for patients dealing with esophageal, lung, and other thoracic cancers and illnesses. Taillieu rallied her friends and family, the community took interest, and within a matter of months, close to $3.4 million was raised to open the Wilf Taillieu Thoracic Surgery Clinic and Endoscopy Unit in November 2019.
Mavis Taillieu had her own health challenges following her husband's passing. She was diagnosed with breast cancer and was treated successfully at HSC.
Today, a healthy Mavis Taillieu devotes her time to her grandchildren and to her Board service with the HSC Foundation and Manitoba Liquor and Lotteries. She enjoys travel and spending time in California and on Lake of the Woods. In her spare time she paints (mostly horses), a hobby she has enjoyed since 2013.
Her decision to make a bequest to the HSC Foundation comes from a place of passion for HSC and a staunch belief that everyone who can, should contribute to the community.
"I've had a lifelong affiliation with HSC," says Taillieu. "And with the thoracic clinic I've seen how important philanthropy is for health care. I want to keep the ball rolling."