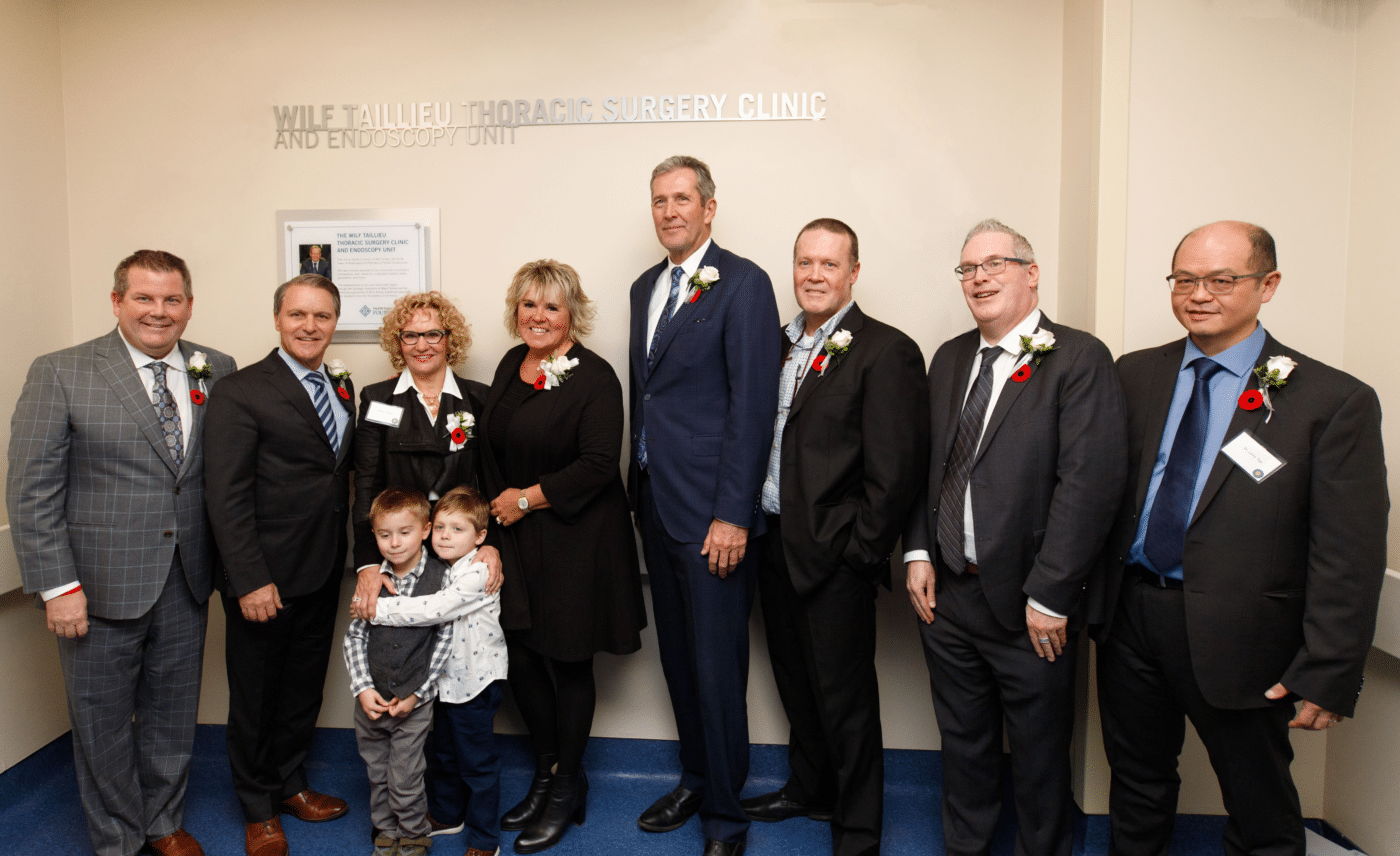 New unit will shorten wait times, enhance care, improve efficiency
WINNIPEG, November 5, 2019 – Thanks to the generosity of donors to the Health Sciences Centre Foundation, HSC Winnipeg has opened the doors to the new Wilf Taillieu Thoracic Surgery Clinic and Endoscopy Unit. The new clinic will reduce wait times and improve care for patients with esophageal cancer, lung cancer, and other thoracic conditions. A special ceremony marking the opening was held today.
With the new clinic, which began operating in July, patients with esophageal cancer who require recurring treatments so they can eat and drink, will get the procedures they need, when they need them—before their situations become emergencies. Previously, these patients were regularly bumped from the operating room when patients with more life-threatening cases required the space. Now, these procedures take place, on schedule, in the new thoracic surgery clinic and endoscopy unit.
Also, the equipment in the new clinic allows suspected cases of lung cancer to be diagnosed and staged more quickly and more accurately, thereby avoiding unnecessary treatments.
"Donors from throughout Manitoba contributed over $3.2 million to a special campaign to open this unit. They learned of a profound need at the hospital and stepped forward to address it," said Jonathon Lyon, President and CEO of the HSC Foundation. "The campaign met its target months ahead of schedule, thanks in large part to the volunteer fundraising efforts of Mavis Taillieu. Mavis was the wife of the late Wilf Taillieu for whom the clinic is named. We are grateful for her tremendous work and for the generosity of all of our donors."
Along with improvements in the care of patients with esophageal, lung, and other thoracic health challenges, the establishment of the new thoracic surgery clinic and endoscopy unit will also create hospital-wide efficiencies.
"With many procedures now taking place in the new Wilf Taillieu Thoracic Surgery Clinic and Endoscopy Unit, there is less demand on the regular operating rooms. And because the patients are getting the treatments they need more quickly, their symptoms will rarely mean a trip to the Emergency Department, so the burden is relieved there, too," said Ronan Segrave, Chief Operating Officer at HSC. "So not only are we shaving weeks off of wait times for thoracic patients, we are also improving how other parts of the hospital function."