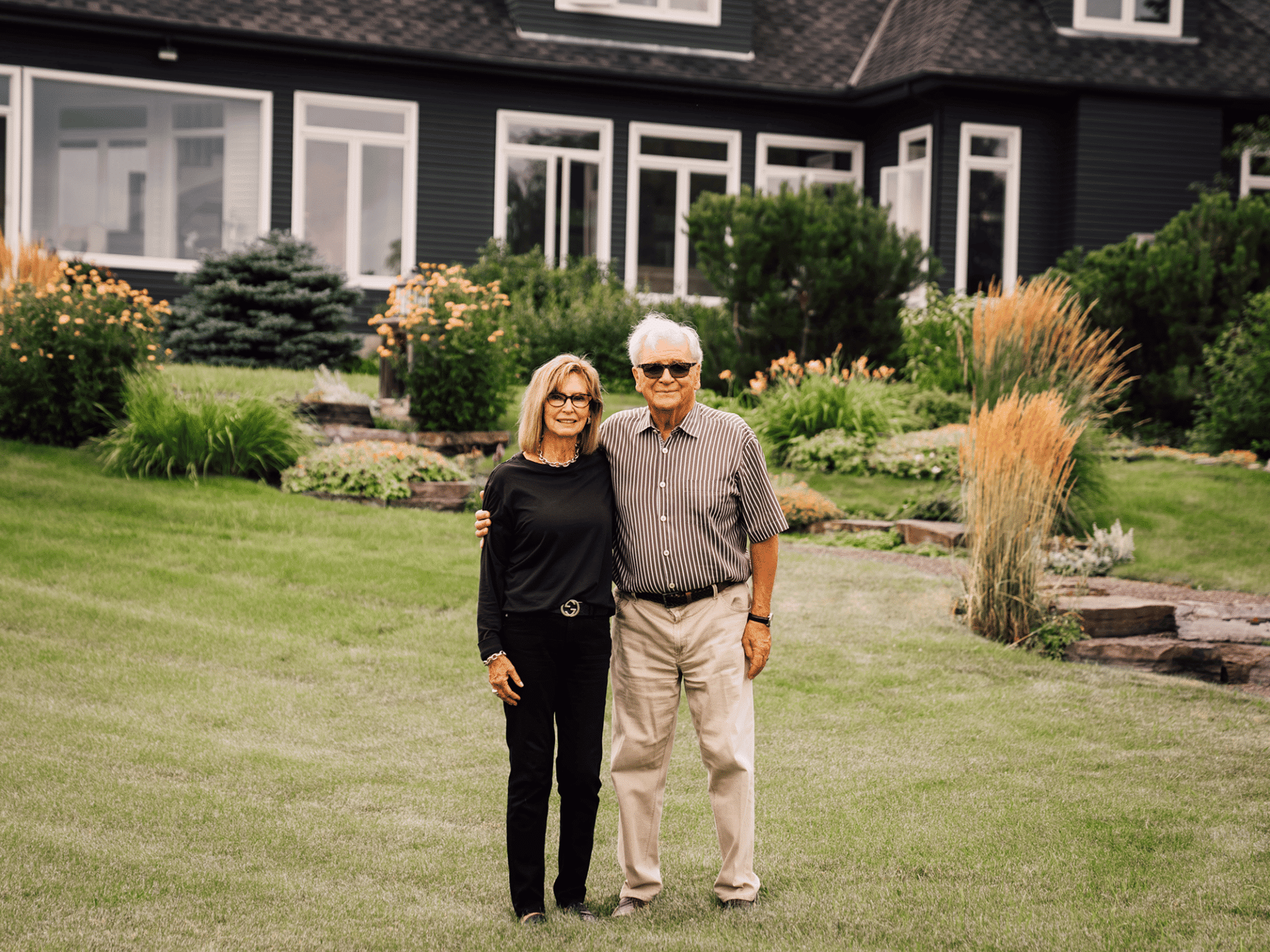 While they now live on 320 acres in Okotoks, Alberta, Bob and Deirdre Kozminski remain passionate Manitobans at heart, still deeply committed and connected to the province they called home until 2017—and proud to support the Health Sciences Centre Foundation among other Manitoba charities.
Bob retired after a storied career in law and the automotive sector in Winnipeg. The couple chose a move to Alberta because that is where their daughter and son-in-law Megan and Kyle live, along with members of Deirdre's extended family. Bob and Deirdre also spend half the year in Florida where their son and daughter-in-law Matthew and Kelly live with their two boys, Carter and Chandler.
Bob and Deirdre were both raised in East Kildonan and graduated from Miles Macdonell Collegiate. They first met at the age of 16, and married at the age of 22.
As a youth, Deirdre was very active with the YMCA, ultimately becoming a swimming instructor and a canoeing leader. Paddling from Beaconia Beach to Winnipeg with her campers is a favourite memory. Deirdre was also an avid horseback rider, and became very active with Manitoba Riding for the Disabled and the Manitoba Dressage Association. After high school, Deirdre studied to become a radiographer and graduated from the Winnipeg General Hospital (now known as Health Sciences Centre). She worked at the hospital as well as a clinic in the community. Passionate about health care, she served on the Board of the Health Sciences Centre Foundation and was instrumental in the Foundation's Award of Excellence fundraising dinner.
After high school, Bob earned his Bachelor of Arts degree from United College (now known as the University of Winnipeg) and then his law degree from the University of Manitoba, supported by Deirdre who was already working as an X-ray technician. He practised law for about 20 years—mainly criminal and trial work in the early years—at the firm that was eventually called Campbell Maxwell and Kozminski.
At the age of 28 or 29, still early in his legal career, Bob bought and sold an Arro Rent a Car franchise, and then bought a Budget Rent a Car franchise in Winnipeg. His brother-in-law Glenn Cross ran both businesses—and Deirdre worked at Arro part time—while Bob continued to practise law. As owner, Bob purchased thousands of cars and got to know all of the local car dealers, many of whom hired Bob as their commercial lawyer. The commercial work was interesting and fun, but stressful too. He worked one or two nights a week and at least one day on the weekend. At the age of 40, he decided he didn't want to work like that for the rest of his career. Inspired by the success of the dealerships he served as a lawyer, he decided to leave the practice of law and acquire his own dealership. Keystone Ford was his first dealership, and others followed.
Bob credits his success and his work ethic in large part to his parents. Neither of them finished high school, but were determined that Bob would get an education (even though he wanted to quit school and pursue a professional hockey career). His dad ran a service station and his mom worked in a sewing factory, both working long hours. From his parents, Bob also learned the importance of giving back to the community. They were of modest means but did their best to help others and to make the community a better place. Deirdre's parents were also deeply committed to community life; her father was one of the founders of Rossmere Golf & Country Club, among other involvements. It is no wonder that Bob and Deirdre have been generous with their time and resources, and deeply committed to the community.
In addition to her service on the HSC Foundation Board of Directors and her work with Manitoba Riding for the Disabled and the Manitoba Dressage Association, Deirdre was also a long-serving member of the Board of the Winnipeg Symphony Orchestra. Bob has served in a variety of hands-on volunteer roles over the years. He currently sits on the University of Winnipeg Foundation Board, the Ducks Unlimited Canada national Board, and the Board of the Bruce Oake Recovery Centre. These affiliations bring Bob back to Winnipeg a few times a year.
The decision to join the Bannatyne Legacy Circle was not a difficult one for the Kozminskis, and they are each participating in their own way. Bob's legacy gift will come in the form of a life insurance policy that he no longer needs. When the policy pays out, the Health Sciences Centre Foundation will be one of four Manitoba organizations to benefit. Deirdre has committed to a separate legacy gift that will be directed towards the Honourary Directors Legacy Fund, in support of medical research at HSC.
HSC and the HSC Foundation have touched the lives of Bob and Deirdre Kozminski, and the hospital has cared for their loved ones. And they express a special fondness for the foundation's Board and professional leadership.
"Philanthropy is absolutely important for health care," Bob and Deirdre agree. "Government can't fund everything. We all need to show support for the people on the frontlines of health care. Every donation counts."